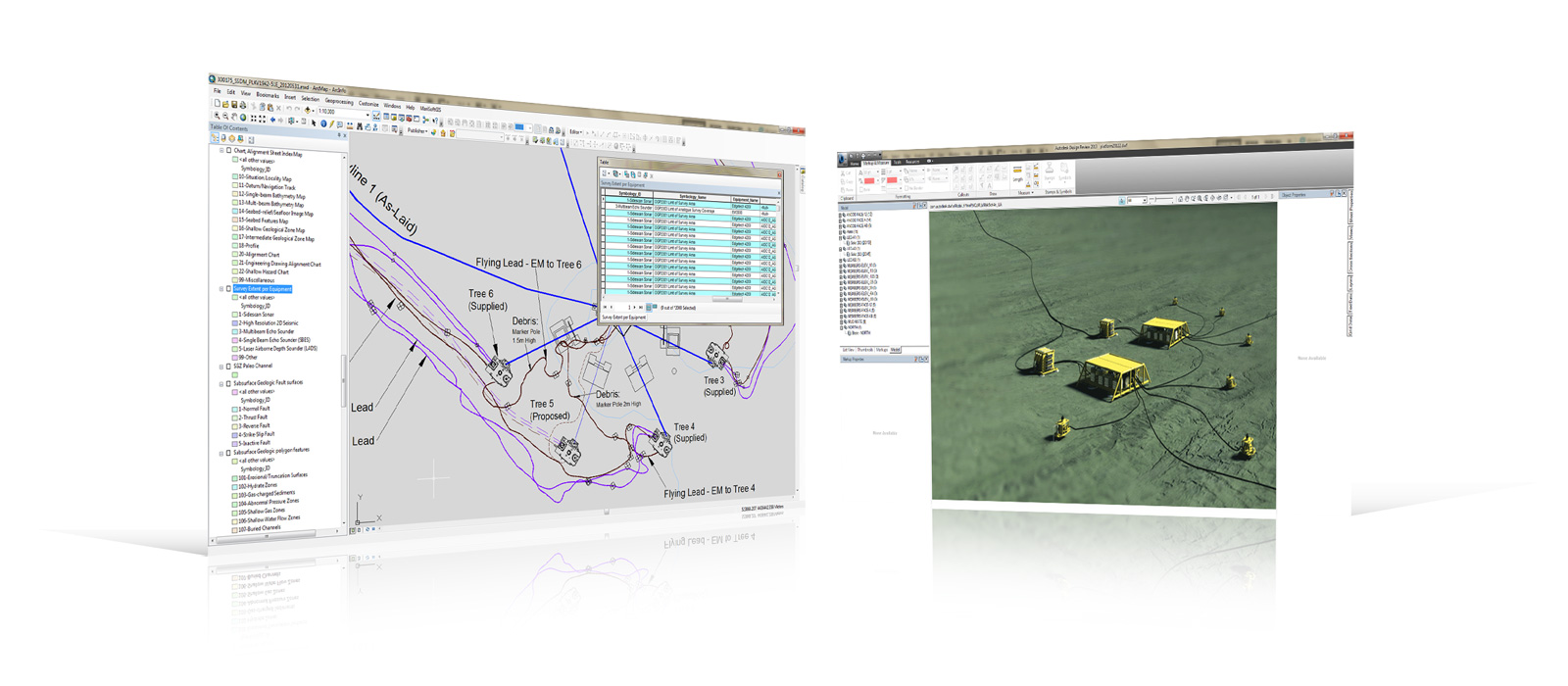 Transform Your Data Into Actionable Insights
MariSoftGIS was specifically developed and designed to eliminate potential confusion and the complexity of creating a ESRI Geodatabases for final deliverables, which can be easily integrated into end Clients Geodatabases.
Digital video is visualised with Long-Profile, X-Profile and Events. However, GIS allows the incorporation of other GIS data & other survey results
Create (SSDM and PODS) Geodatabases
MariSoftGIS provides the facility to load interpreted seabed survey data (bathymetric surveys, side scan sonar and single beam /multi-beam echosounder, hydrographic, shallow geophysical and geotechnical, geographical entities and attributes, including surface and subsurface geologic hazards) into Seabed Survey Data Model (SSDM) geodatabase in accordance with an international Oil & Gas Operators business needs.
MariSoftGIS provides the facility to quickly convert the pipeline inspection data (i.e., VisualWorks data) to PODS database structure.
Imports Survey Data into the GIS environment
Import Pipeline Route.
Import As-found Pipelines
from the VisualWorks cross profile (XP.csv) survey data.
from Pisys ASCII format 3.
Import Events from text files.
from the VisualWorks events (Events.csv) data.
from any CSV comma delimited file.
Textual survey data e.g. events data, converted to geometric representations with attributes.
Create Linear Events such as burial, exposure and free spans based on the Kp of the data.
from the VisualWorks events (Events.csv) data.
from any CSV comma delimited file.
Create M-Aware and Z-Aware Objects
Data Type
Survey Track
Survey Objects (e.g., Targets, Cores etc)
Soundings
Pipeline Inspection Events
Pipeline Inspection As-Found Position
Pipeline Inspection Linear Event